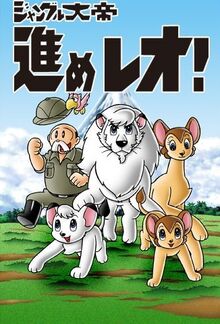 Leo the Lion (Onward, Leo!) ジャングル大帝・進めレオ (also known as New Jungle Emperor: Onward, Leo! is the sequel series to or second season of Kimba the White Lion (Jungle Emperor).
Onward, Leo! was broadcasted October 5, 1966 - March 29, 1967 on the Fuji Television Network in Japan. In the US, the series was given an English dub in 1984 and given the title: "Leo the Lion". The series was dubbed by Sonic - Sound International Corp. and was broadcasted on CBN.
The series is noteworthy for exploring Kimba as an older character, as a few years have passed since the first series. Living with his wife, Kitty (Lyra), and introducing his children, Lune (Rune) and Lukio (Rukio). The ending of the series is very different from the original manga and the 1997 movie.
Director - Shigeyuki Hayashi
Japanese Voice Cast -
Theme Song - Mark Boccaccio, Susan Brunet
Voice Cast -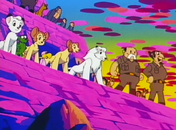 When production started on the second series with Kimba (Leo) as an adult, NBC Enterprises was not interested in working with Mushi productions and rejected their offer as NBC were satisfied with what they already had. In turn, Tezuka and Mushi Productions were allowed to make the series however they wanted without NBCE's direction and alterations.
This series was dubbed into English by a company based in Miami, Florida in the United States known as SONIC-Sound International Corporation, and run at the time by Enzo Caputo between 1982-1988. Leo the Lion( so named because Leo was the Japanese name for the Kimba character) aired on CBN Cable Network in 1984, The theme song for the English dub was written by Mark Boccaccio and Susan Brunet. The English dub was so cheaply produced that it did not have any credits, not even a main title card.
Unlike Kimba, which had been extensively revised to tailor it to American tastes, Leo was an extremely accurate translation of the Japanese script. Most of the original names of the characters were used, such as Leo (Kimba) and Liya (Kitty). This was likely done to avoid a copyright conflict with the Kimba property. A few of the minor characters had their names changed such as Carl to Shamus, James D'Bond to Sterling Bond and the mammoth mother to Pachydermus.
The series uses Kimba's original Japanese name, "Leo", for the first time in the US.
Leo the Lion Episode Guide - and History
Production Staff - Media Arts Database
Dubbing History - taken directly from the "Leo the Lion" page on the Dubbing Wiki.
Community content is available under
CC-BY-SA
unless otherwise noted.